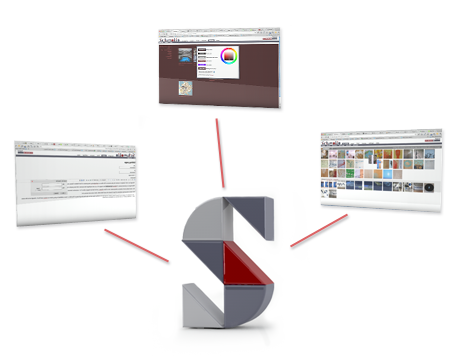 Tour Schmolio
Schmolio's not just a website builder--it's an artist portfolio management system. Folks can build a resume, keep track of useful links, organize artwork, and post events and news. Schmolio can post to Facebook for you and looks great on mobile devices. Click on a link below to find out more.
Themes
You can customize the look and feel of your Schmolio site by choosing from many available themes. You may be familiar with the concept of themes from sites/apps like Wordpress or Tumblr. The theme you choose determines the general layout of your site. Do thumbnails go on the left or on top? Want a straightforward vertical scroller? A theme designed to make photos look great? Videos? We've even got themes for design portfolios and band websites.
What's more, most themes are customizable. You can change the background color, text color, image size, and link color, among others.
Since some themes are bound to be more popular than others, we've even created a "uniqueness rating," which lets you know how your site stacks up against other Schmolio websites. While our main goal is to get out of the way and let your artwork look awesome, we understand that you also want your site to look distinctive. We've done our best to make it easy and fast for you to create a site that individuates itself without stepping on the toes of what's most important: your work.
Images
Uploading and displaying great-looking images is the heart of Schmolio. You can upload lots of images at once, and Schmolio will create all of the appropriate thumbnail and preview sizes for. If you use a program like Adobe Lightroom and have added meta data to your images, Schmolio will happily use that info, saving you hours of wasted time re-entering the same information over and over.
Video
Uploading video to Schmolio is painless. Upload just about any format/codec you can think of, and we'll process it accordingly, producing an embeddable high def video. We'll even grab a screen cap thumbnails for you from the beginning, middle, and end of your video (though you can always upload your own thumbnail).
Already have a Vimeo or Youtube account? We've got your back. Just copy and paste the share link and you're on your way. We want this to be as painless as possible, so you can make work, not worry about your website.
Audio
We've got you covered for audio too. It's a snap to upload MP3s. We'll even grab all of your meta data so you don't have to type the same info again and again.
With a musician/band-based theme, you're on your way to a quick and easy music site. We're no Bandcamp, but we can pick up the rest of the slack. Add works-in-progress, news, a band bio, and tour dates with ease.
Pages
Your artwork is the centerpiece of the site, but you also want to add an artist statement, a bio, a band profile, a company mission statement, or a simple contact form. You can create as many static pages as you want. No need for an extra Wordpress site, just to tell the world who you are.
Links
We love schloads of artists, bands, and sites. You probably do too. It's very easy to add all the web links you want, and to easily categorize and organize them. You create the categories; you create the links.
Resume/CV
It's a pain keeping that crusty old Word doc up-to-date. Let Schmolio do the heavy lifting. It's easy to create resume categories, as well as resume lines, ordered by year. You just add in the info, and Schmolio will take care of organizing everything. Send potential employers, galleries, or clients a link to your searchable resume/CV, or even downloadable PDF version.
We're even working on a variety of resume/CV layouts, so you can just add the info, choose a resume layout, and be on your way. We're into keeping redundancy to a minimum.
Statistics
We keep close tabs on who's checking out your site. We offer a detailed stats page, with referrers, hits, etc. Unlike many stats trackers, we also monitor individual media hits--so you can track which of your images, videos, or songs are the most popular.
We'll track your stats no matter what, but you're more than welcome to use the far-more-sophisticated Google Analytics. All you have to do is enter your tracking code and you're all set. You can use either or both stats programs--that way you get the most accurate picture of who's checking out your work.